Marketers and Freelancers are trying their best to build up and expand business in social media and get sales and reviews.
So collecting leads, building connections with the audience, and managing customers have become more important as 2022 best tactics.
But doing all of these like landing pages, contests, polls, reviews, funnels, viral giveaways, surveys, quizzes, engaging forms, etc., at the same time is super difficult unless you have Woorise.
Imagine buying 10 individual tools for these 10 different tasks. Smart people choose Woorise to manage all of these in a single place, including automated action to close sales leads and manage customers.
But what exactly is Woorise?
Woorise Review: What Is Woorise?
Woorise is a great social media marketing tool of combination and the easiest way for every small and medium business to achieve the best result from social media. It is the best way to find leads through contests and giveaways, organize natural traffic, and convert them into customers.
It is the ideal tool for brands and businesses to increase sales and interest in the products and services.
One of the best reasons Woorise is a complete marketing solution is the integration of all popular marketing platforms such as Mail chimp, Aweber, ActiveCampaign, Hubspot, Google Analytics, Bitly, Zapier, PayPal, Stripe, and many more.
Woorise helps you make efficient emails, surveys, and quizzes and deliver the right message to the right audience.
Do you know why online marketers are so obsessed with it?
Woorise Review: What's Included in Woories Product Package?
Woorise Helps you build content and campaigns that your audience can't ignore and will be in love with. The main products and tools that Woorise have are:
1. Create Influential Giveaways, Contests, and Challengers:
Collect entries and encourage your audience to engage with your purposes. Companies like Groupon, Diapers.com, and many more have used the internet as a form of marketing.
An example of this is a company that creates a deal and gives it to their customers to win. The customers receive the deal and have a chance to win the product. There is a strong chance that they will purchase because they can win something they want or need.
Sweepstakes and giveaways are powerful ways to drive sales. This is why many big brands sponsor them, such as McDonald's.
In 2016, they gave away a $10,000,000 gift card. This is a powerful way to keep their brand in the mind of their audience.
That's why Woorise's Giveaways and contest tools can give you the ultimate profit for your business in social media.
2. Design Attractive and High-Converting Landing Pages Without a Developer:
Have you ever felt the importance of landing a page with the right keyword optimized for a high conversion rate?
Start with an optimized mobile-responsive template if you want to optimize your
landing page for a relevant audience and increase engagement.
Woorise is the most comfortable way to make a landing page to use in your social media for plenty of uses.
You can start creating your landing page with it in minutes. It offers different templates, colors, fonts, and styles.
You can also drag and drop the element to build the landing page easily. With just a few clicks, you can create a landing page for:
Lead Generation

Coupons

Content

Marketing

Email Marketing

Sales and even more.
You can also start using the intuitive design of Woorise. It is easy to use and allows you to create high-converting landing pages in just a few minutes.
3. Create Any Form, For Any Need, Fast:
Build any powerful and custom online forms for your social media that you can use to collect data, signups, payments, subscribers and automate your workflows.
No technical expertise knowledge is required to build your form in Woorise. With Woorise, all the required fields are pre-populated with default values.
No coding is required to build a form with Woorise. Just drag and drop the fields and create your custom look and feel.
Efficiently organize leads and close sales with this powerful form from audience connections, viral giveaways, and landing pages.
Building an engaging practice of creating forms with Woorise is worth connecting your business thought with different customer touchpoints.
Woorise has built custom integrations with popular CRM, email service, and marketing automation tools like Salesforce, Zendesk, and Campaign Monitor to make this formwork.
4. Create Survey and Gain Rich Insights & Make Informed Business Decisions:
Using surveys in your social media marketing plan can help know the audience's choices, perspective, pain points, likes, dislikes, etc.
It offers several types of surveys: multiple-choice, short answer, rating (a nine-point Liker scale, or a 1-7 Liker scale), long answer (a free form and open-ended questions), and list style.
By Woorise's Social media survey, you will be able to create an honest conversation between you and your audience. It helps you start a discussion with your audience and get feedback on your company.
5. Build Engaging Multiple Types of Online Quizzes In Minutes:
If you promote an internet brand, you'll agree that social media quizzes are one of the most competitive forms of content available.
Smart marketers utilize it in their marketing strategy to develop leads and improve customer engagement.
Woorise enables you to create perfectly beautiful & effective quizzes with an amazing quiz maker.
It delivers you with all you need to build first-class and professional-question
quizzes to provide entertainment value and even fabricate income.
Interactive personality quizzes to learn about your audience and generate leads.

Scored Quizzes to grade users' responses, assessment quizzes with multiple choice to let the audience find the correct answers.

Trivia quizzes for contrasted your audience with general knowledge and common sense.
You can create high-quality and professional-looking quizzes using Woorise that people love sharing and engaging your audience.
What more do you need when you can get richer customer profiles?
Ask potent questions to get more lively leads to connect you with your audience and get richer profiles.
Get insights and feedback and activate your viewers with knowledge and personality quizzes.
6. Collect Online Payments Securely and Quickly:
Woorise makes it simple to collect payments, make checkout pages, sell products, or receive online donations.
Numerous popular online payment services allow you to generate online order
forms and accept payments, while Woorise collects those payments.
For example, PayPal is a secure online payment gateway widely used for online payments and integrated with Woorise for an online subscription and other popular payment methods worldwide.
These include Stripe, Square, 2checkout mollie, authorze.net, etc. But don't worry about recurring subscriptions in any currency; Woorise also made it easy for you.
You can even reward your customer for purchasing products, tickets, or a registration in your event.
It can automatically apply discounts on products, and Woorise will be done next checkout with safety.
Woorise Review: Who Is Woorise for?
Woorise is a dedicated expert for any
 Social media marketers,

Digital Agencies,

E-commerce business managers,

Freelancers,

Social media influencers

Social Media specialist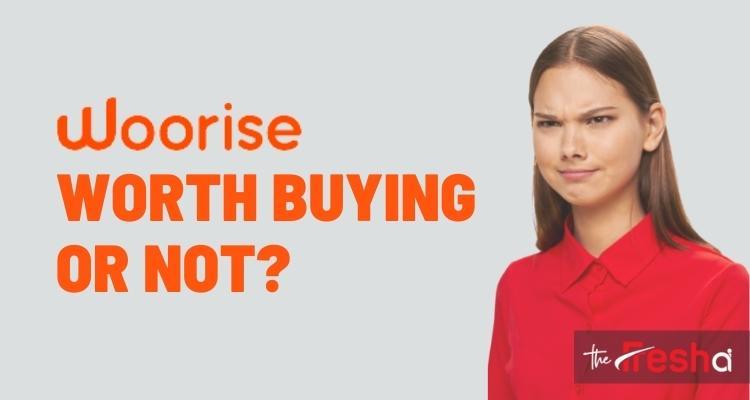 Let's Review Its Features:
Woorise boosts your ability to reach out to many different audiences with it's many features.
To reach out to new customers with multiple new digital marketing tactics, Woorise incorporates everything a marketer needs.
If you are a specialist in social, Woorise helps you stay ahead of the competition and keep your business alive in the social media world, keeping you up to date with new trends and platforms.
Woorise can keep any business informed on the best times to post, retweet, and share on social media.
Say, this one-stop social media marketing shop can help you maintain accounts across different social platforms, monitor your performance, and reach out to new
customers.
It also helps you find new customers geographically, organize contests for the brand, bring more followers, and convert them into sales for your business.
Drag & Drop Interface:
The drag & drop interface is a way to simulate actions on computers by dragging objects from one place to another. Drag and Drop interface is an intuitive and interactive way of designing your landing page, quizzes, forms, etc. You can easily edit and customize any promotion component, including form areas and friendly activities, with a couple of clicks of your mouse without needing a developer.
Mobile Responsive:
Its web pages, landing pages, and Woorise dashboard are mobile-responsive, enabling you to view and edit them from any device. Woorise comes with this modern approach to website development that focuses on making sites viewable on any device. It is very easy and lovely to view and interact with this system on your desktop, tablet, mobile, and tv.
1-Click Pick Winners:
Many factors go into predicting these results, but it looks like 1-Click Pick Winners is the best way to go. These are simple predictions where you pick either a team or player and bet on them winning.
Analytics:
It's more important than ever before to analyze and interpret data. With so much data, it can be difficult to kno what to pay attention to and what not to, but that is where analytics come in. Analytics help us make sense of large amounts of datasets and equip us with the knowledge we need for decision-making. Woorise helps keep track of your promotions' performances with easy-to-track information. There's no need to look everywhere for promotion performance – it's all at your disposal right at your fingertips.
Integrations:
Utilizing native integrations, Zapier, and webhooks, using Woorise, you can send data to several major email marketing apps. Create multiple contact segments for better segmentation and deliver the perfect message at the perfect time. Send data to any trackable URL.
Export Data:
Export all participant's data in a CSV file. If you want to export your data, you can choose from many different exporting options. The most common export formats are CSV or comma-separated values, TAB delimited, and fixed-width files. These formats are well-suited for importing into programs like Excel to convert the exported data into tables, charts, and graphs. If you want to export your data, you can choose from many different exporting options.
Referral Marketing:
Encourage your most enthusiastic clients to turn their main fans into leading promoters. Reward your clientele for introducing their good friends to encourage enthusiastic engagement. Referral Marketing is a cost-effective way to grow your business.
Woorise helps you build an effective referral marketing campaign that will bring in new customers and grow your bottom line. It's also one of the best ways to ensure maximum customer satisfaction. Referred customers are typically more satisfied with their purchase because they feel that the provider went out of their way to find them what they need.
Referral marketing increases brand equity by building consumer trust through word-of-mouth networks.
Email Notifications:
Automatically send email notifications after forms are submitted, according to your preferences. Use conditional logic and merge tags to determine your customizations in HTML emails that are sent based on user preference after you've submitted a temple form.
Instant Win:
Probability determines the odds of winning many kinds of prizes. It can then suddenly default to giving participants a prize when one loses. The object-oriented design will have different messages and prizes for winners and non-winners.
Publish Anywhere:
Woorise campaigns can be set up on your website as a pop-up, in a full screen, in a chat room, exit intent, in email, on your Facebook page, or your subdomain. You can now convert your Woorise banners into Woorise campaigns and send them on their way to your clients. You can now send your campaigns on whatever device your visitors view you embed code on.
Geo-Targeting:
Create your campaign open to precise users based on their geographic location. Geotargeting allows you to deliver your campaign to users of particular countries. Geo-targeting offers businesses a low-cost, highly targeted solution to their advertising needs because it uses specific data such as demographics and web traffic patterns. Geo-targeting is a term used to describe the process of narrowing down a location based on sophisticated algorithms and using that information to serve ads to potential customers in that area.
Any Language:
Woorise allows you to view different statistics for each language and view all the statistics for each campaign and all language campaigns.
Multi-Page Forms:
Many businesses need to create electronic forms for customers to fill out. These can be multi-page forms with many different sections and questions.
Conditional Logic:
Easily create smart online forms that respond to the user's input. Display form fields conditionally, display social actions, provide confirmation messages, or send email notifications conditionally.
CSS Customization:
You can modify it in many ways, including changing fonts, colors, spacing, margins, and more.
Workspaces:
Create separate Woorise workspaces (where you set up your Woorise account) for separate brands or clients. You can create a different workspace for each site without spending any effort to separate data. Set up a secure connection to save the settings and preferences for your sites. Save the settings and preferences from each site in one place and import them to a new site easily.
Team Users:
Let users access the various Spaces (Workspaces) to which you have created access rights, assign editing or viewing privileges depending on the specific Spaces selected, and easily manage teams that have been formed. A single user or multiple users can create teams.
Accept Payments:
Run sales of your products and services on your website and accept credit and debit card payments through Woorise campaigns. Help clients input payment information securely through a variety of leading payment gateways.
Privacy & GDPR:
Woorise supports the privacy of personal information and adheres to the provisions of GDPR. We have implemented several tools and security systems to safeguard data to ensure compliance with GDPR.
Fraud Detection:
Woorise contains sophisticated automated fraud detection recommendations like Google ReCAPTCHA and email confirmation to detect cheaters. If it detects suspicious behavior, it generates alerts and suggests appropriate actions. Woorise can ask for signatures to prevent careless or suspicious actions from cheaters. Woorise will detect suspicious behavior based on the IP address of the device used to log in to your website.
Two-Factor Authentication:
Make your login process more secure by mandating that secondary authentication (2FA) be used with a trusted device in addition to a password. When you log in, you have to provide a second layer of security by entering a verification code provided by a trusted device. Each user needs a unique verification code, so you'll need to provide one to the user who needs to log in to your account.
What Tools does Woorise Integrates with?
Woorise is not a tool, and it is a system integrated with all great tools used for all steps of social media marketing. It includes all of the analytics, email marketing, marketing automation, payment, and other tools and software to give you the solution of accessing everything from one place.
2checkout,

Active campaign,

Authorize.net,

AWeber,

Bitly,

Campaign Monitor,

CleverReach,

Constant Contact,

ConvertKit,

Drip,

Dropbox,

Emma,

Facebook Pixel,

GetResponse,

Google Analytics,

 HubSpot,

 iContact,

Klaviyo,

Mad Mimi,

Mailchimp,

Mollie,

Paypal,

Slack,

Square,

Stripe,

Trello,

Twilio,

Webhooks,

Zapier.
Woorise Review: Can I Make Money by Using Woorise?
Starting from 2016, Woorise is still in the market, helping social media marketers, entrepreneurs, and freelancers to manage their business in social media, grow followers, explore and attract new audiences, gain traffic and generate more sales.
It can be easily imaginable how Woorise helps others earn from their online concern. You know all of the ways from where you can earn money. But woorise boosts it 10 times more.
So you need to identify the online money-making ways and then use Woorise to implement all possible tactics to get the highest benefit.
Why will you contact your business if you can't manage your social media audience well or provide them value?
Starting from finding your customers, Woorise provides you with all services till receiving the payment into your wallet.
But the biggest benefit is you can always try it for free before purchase. So there is no risk for you while there is the highest chance to multiply your online sales 10 times better.
This Woorise review also present it's all Pros and Cons from a neutral perspective:
Woorise Review: Is Woorise Wroth of Buying or Not?
It is hard to find real social media marketers who don't buy tools like campaigns, Mailchimp, analytics, PayPal, etc.
If you calculate the price of all these tools, it might be higher than the Woorise single plan for a lifetime.
With only $49, you can get the killing features with all tools combination systems to work like a pro.
The way Woorise use social media strategy tactics to make engagement campaign, quizzes, landing page, content, form, collect leads, send an email and collect your payment; it is worth 515$ for a single plan which is the actual price of it.
So spending for Woorise is not spending; It's an investment to boost your sales from social media and get the highest benefit from it.
How to Get Woorise Access for Lifetime AppSumo Deal @($49):
Visit The "Woorise AppSumo LifeTime" deal page

Wait a few seconds

You will see a Discount Popup

Enter Email to Receive Exclusive benefit

Continue with the same Email Id

Get a $10 discount at the end

Discount valid only for new user
Woorise Pricing Table
Conclusion:
Although several different marketing tools help you connect with customers, some are better than others.
The price of woorise is in a better position than its other competitor's tools. With more features and customization, you can achieve working flexibility and sustainability.
It doesn't have counted down for contest like others software. You will get more emails than before and any time any support from the Woories.
Many users and customers have already provided a positive review for Woorise. Buy these real and powerful tools, start your experiment with a free trial.
The Freshai highly recommends Woorise for those who want to be in the first line of social media marketing and increase sales.